Deuces Wild Poker – How to Play Deuces Wild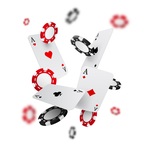 Deuces Wild Poker is a great game for players new to video poker. In the Deuces Wild game the key cards are the deuces or twos. Deuces are wild cards and you are familiar with slots then you know now a wild operates in casino games. The deuces essentially substitute other cards to form winning combinations. Which is what makes deuces wild such an attractive game for gamblers.
Wherever you have a deuce or a two it acts as a wild substitute and replaces the card to form the best value and the highest possible hand. Deuces wild poker rules follow standard rules of the main video poker games.Especially with the winning hands and payouts. As with the main game the best possible hand in the game is a Royal Flush. Therefore, once you have the basic rules of video porter deuces wild will be a breeze. The main difference in Deuces wild is the role of the twos or deuces.
Deuces wild video poker makes winning so much easier because the deuces become wild cards. Deuces can be any of the cards in the 52-card deck to make your combination better. The pay-outs are not as good in this game, as it is easier to make a winning combination of cards, but it certainly does bring a lot of excitement to the table.
Play Deuces Wild Video Poker
Deuces Wild Poker Game
Deuces wild poker is much like the standard video poker. Simply put, the aim of deuces wild is to form the best poker hand. As we explained earlier the key difference is that dices are wilds which substitute for any other cards to form a winning hand. The game is also played with a 52-card deck. So, if you already know how to play video poker you will easily grasp this variation of the game.
The key to playing deuces wild well is knowing which hands to keep and which ones to discard. Never let go of any deuces since they are wilds and can substitute for other cards in all hands except one. The only hand in which a deuce cannot act as a wild is a Natural Royal Flush. Also, a pair of deuces guarantees a payout even though is the lowest payout.
How to Play Deuces Wild Video Poker
Learning how to play deuces wild is easy. The aim of the game is to create the ranking hand using the cards you are dealt.
Play Deuces Wild using these five steps
Players are required to place a bet at the start of each hand, you do this by selecting how many coins you want to play with from 1 to a maximum of 5.
The deuces wild video poker machine rolls out 5 cards for you.
At this point you can choose to hold on to all five cards , discard any or all cards that you don't need.
The cards you discard are replaced with new cards as long as you have enough coins to play some more
Finally, if you are satisfied with the cards you have assembled hold on to them and you will get a payout according to the rank of the hand you have.
Deuces Wild Poker Strategy
The best way to play Deuces Wild is knowing which hands to keep. Although the highest payout comes from Royal Flush don't let go of a wild flush/ five of a kind in the hopes of getting a royal; you may end up losing and stuck with a four of a kind
Where you have two deuces hold on to that pair and build up on it. However, if you have a double pair of deuces only keep the one pair and build on that. Never let go of a pair if you only have one pair of duces.
If you are dealt four deuces hold all cards
Should your hand have three deuce you can choose between holding all cards or discarding the other two in hopes of landing a royal flush.
Hold a four of a kind hand or better
Hold any three cards that lead to royal Flush or straight Flush
If you have deuces do not discard them
If you are dealt hand that does not have a pair, deuces or does not pay – discard all five cards.
Deuces Wild Poker Hands
Three of a kind- A hand of three cards which have the same value
Straight- a hand with cards of different values in a consecutive sequence, in any suit.
Flush- Five hand card with cards of any value which are all a uniform suit
Full House- A pair, that is two cards of the same rank (e.g. two fours or two J's) etc and three of a kind.
Four of a kind- a hand made up of Four cards of the same value or rank
Straight flush- a hand with cards of different values in a consecutive sequence, in the same suit.
Five of a kind- and with one deuce and Four cards of the same value
Deuces royal flush- a royal flush that is a hand with an ace, king, queen, jack, and ten in the identical suit, but in this case bone of those cards can be replaced by a deuce
Four deuces- a hand with four deuces
Natural royal flush- a hand of the same suit cards made up of ten, and Ace, Jack, Queen, and King
More Video Poker Guides