French Roulette Wheel, Rules, Odds and Payout
French Roulette is the original variant of the game. Although the American version is very popular, the French game is the standard. From Blaise Pascal's Perpetual motion machine experiment one of the most iconic gambling games was born.
For newer players, we explain this casino game simply starting from the french roulette wheel, rules, table bets and payouts.So if you are looking to find out how to play French roulette, you are in luck. We have put together a list of the best online roulette casinos for you. Moreover we have easily explained the difference between French, European and American roulette.
Whatever it is you are looking for we have you covered. In our guide to understanding French roulette, we have included odds, payouts, wheel and table layout.
Best French Roulette Online Casino
How to Play French Roulette
In French roulette, a ball is placed on a wheel with numbered pockets. Then the wheel spins and players must place bets on where they think the ball will land.Bets are placed first before the wheel is set in motion. A bet can be a specific number pocket or a range of numbers. Each numbered pocket on the wheel has alternating red and black colors.You may even bet on what color pocket you think the ball will land in.
French Roulette Wheel
To understand the game of french roulette online or at a land-based casino it's important to familiarize yourself with the french roulette wheel. We have provided a clear image of the wheel below. Additionally we explain the french words that represent different sections on the wheel and what they mean.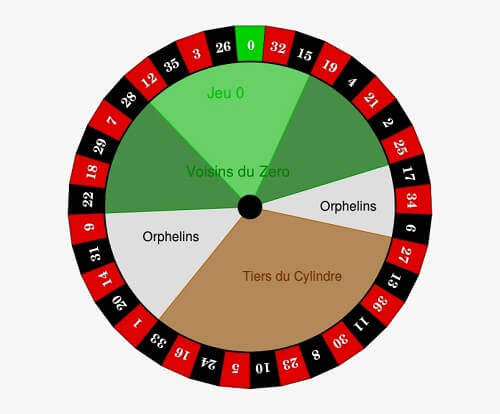 Voisins du Zero translates verbatim to "Neighbours of Zero". It covers a section of 17 numbers namely: 22; 18; 29; 7; 28; 12; 35; 3; 26; 0; 32; 15; 19; 4; 21; 2; 25
Orphelins translates to orphans and takes up two sections on opposite sides of the wheel. Together thjey make up 8 numbers which are 17; 34; 6 on one side and 1; 20; 14; 31; 9 on the other
Tiers du cylindre which means a third of the wheel naturally covers a third of the wheel and the following numbers:27; 13; 36; 11; 30; 8; 23; 10; 5; 24; 16; 33
French Roulette Table
The French roulette table is larger than the American roulette table, however none of that matters when you play online. On French tables, the outside bets neatly and clearly sectioned off the two long sides whereas in the American table all outside bets stretch out on the same (long) side of the table.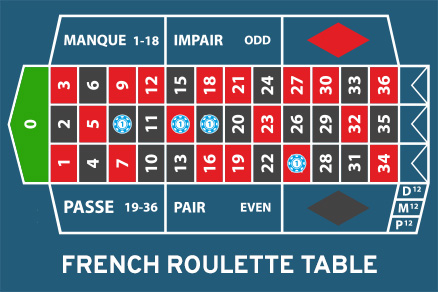 French Roulette Rules
French roulette game play is pretty much standard. You are betting on where you think the ball will land after the will stops spinning. However, there are some rules unique to the game. They are the "En Prison Rule" and the "La Partage Rule". Both these rules only apply to even-money bets and they significantly reduce the house edge compared to American Roulette for instance.  Even money bets are bets that pay 1:1 namely – Rouge/Noir, Pair/Impair and Manque/Passé. The bets in French Roulette are similar to those of other roulette games except that the outside bets are written in French on the table.
En Prison rule– This rule locks "imprisons" any lost even-money bet until the next spin to give you second chance at winning your wager back.
Le Partage rule: With this rule you get half your bet back when you lose on even money bets.
Make sure to check which of these rules are in play when play online.
French Roulette vs European and American
Besides the difference in bet names, the French version naturally has bets written French. There's also a marked difference in house edge because of the La Partage and En Prison Rules. The European Roulette wheel is similar to the French one haveing a single zero pocket and 36 numbers. It is similar in ever aspect except for the fact that there is no La Partage and En Prison rules and all bets are written in English.
| | |
| --- | --- |
| French | American |
| La Partage & En Prison Rule to mitigate losses | No rules to mitigate losses |
| One zero on the wheel | Double zero on the roulette wheel |
| Low house edge | High house edge |
| Column Bets in English | All bets in English |
French Roulette Payouts
The payout when you play French Roulette depends on the bets you play. Even money bets are those that pay 1 to 1. They include bets on the colour of the wheel pocket, even bet, odd bet, low and high number bets.
Even money bets pay 1:1.
Column bets pay out 2:1
Straight bets pay out 35:1
Split bet pays 17:1
Corner bet pays 8:1
Double Street Bet pays out 5:1
French Roulette Terms and Types of Bets
Douzaine = Dozen bet
There are three columns you can bet on:
12P- Premiere which is the first column
12M – Moyenne the second column
12D – Derniere the third column
Rouge/Noir = A bet on the ball landing in the Red or Black pocket pays 1:1
Pair/Impair = a bet on the ball landing in either an Odd or Even numbered bet pays 1:1
Manque/Passé = Betting on an either a low number i.e. 1-18 or a high number 19-36
Related Roulette Guides: